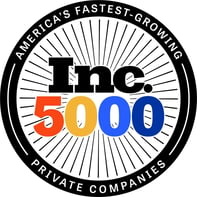 Lancaster, PA — SecureStrux, a leading provider of cybersecurity solutions in the defense sector, proudly announces its inclusion on Inc. magazine's prestigious Inc. 5000 list for the fourth time in the last six years. The company, headquartered in Lancaster, Pennsylvania, continues to play a pivotal role in the dynamic cybersecurity services industry. While serving both commercial markets and government entities like the Department of Defense, SecureStrux plays a critical role in safeguarding federal and military supply chains against evolving cyber threats.
The driving force behind SecureStrux's consistent recognition is its remarkable growth trajectory, marked by a substantial 85% increase in revenue over the past three years. This milestone stands as a testament to the dedication of SecureStrux's team. Their commitment to living out our core value drive continuous innovation has yielded a suite of comprehensive compliance and cybersecurity offerings that encompass technical solutions, engineering expertise, consulting services, and advanced training options tailored to the specific needs of a diverse clientele that ranges from large enterprises to small and medium-sized businesses within the Defense Industrial Base.
"The steady and consistent growth we've experienced is a direct result of the relentless efforts put forth by our team. I am grateful to our esteemed clients for entrusting us with the responsibility of helping them achieve their cybersecurity and compliance goals," remarked Nathan Shea, CEO & founder of SecureStrux.
Shea is optimistic about what the future holds for the cybersecurity industry: "As we look to and plan for the future, we're excited about the opportunities to expand our service offerings, including the continued evolution of our software solution, PowerStrux®, designed to elevate system monitoring and provide quick and easy visibility to system security settings."
Since its establishment in 2013, SecureStrux has cultivated partnerships with a myriad of organizations seeking proactive strategies in addressing compliance, cybersecurity, and risk management. The newly achieved certification as a C3PAO (CMMC 3rd Party Assessment Organization) brings a dynamic new opportunity to the SecureStrux team as it seeks to help DIB contractors protect their organization, contracts, and current and future revenue opportunities.
The company's additional core competencies are preparing clients for critical assessments such as CMMC (Cybersecurity Maturity Model Certification), providing vulnerability discovery, and cybersecurity advisory services. Moreover, SecureStrux empowers its partners to streamline and automate their continuous monitoring obligations, ensuring ongoing compliance in an ever-evolving threat landscape.
Contact us today to learn more about SecureStrux's commitment to your organization's cybersecurity and compliance needs.