Compliance is a complex endeavor, thanks in no small part to the fact that technology keeps advancing and agency/vendor relationships are becoming more enmeshed. As complexity increases, so too does the need for our organizations serving in the Department of Defense (DoD) supply chain to conduct their operations with an eye not just towards meeting regulations but implementing robust security practices and infrastructure.
A key part of accomplishing that kind of cybersecurity positioning is to emphasize risk management in your business strategy. Fortunately, if you are a government or DoD contractor, then that choice is more likely than not made for you through required compliance with the Risk Management Framework (RMF).
In this article, we'll introduce RMF and risk management more generally, and why it is important for your business.
What is Risk and Why Do I Need to Consider Risk Management?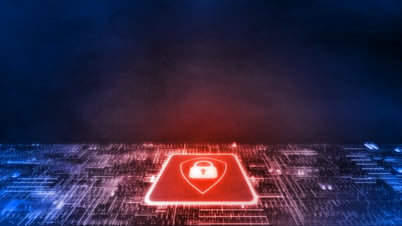 The word "risk" is often thrown around without much clarification or discussion. We all understand the concept of risk more broadly and, in many cases, that's enough for daily work.
In the cybersecurity realm, and specifically within the umbrella of the DoD supply chain, risk is actually a concrete practice. In simple terms, "risk" is a level of exposure your IT infrastructure has to potential attacks or threats. When implementing policies or controls, decisions must be made regarding several factors, including:
Security benefits
Compliance requirements
Business costs
Time and effort for implementation
Longevity and resilience
Company-wide goals, both short- and long-term
Anyone with experience managing a business can see that just managing these priorities alone can become a full-time job in and of itself. Add the complexity of modern IT systems, however, and you find yourself with an entirely more challenging problem in front of you. As the use of third-party vendors and network digital technologies expands, so too does the potential for new and unforeseen vulnerabilities. Accordingly, it becomes nearly impossible to eliminate these vulnerabilities through a simple compliance audit checklist.
That is where risk management comes in. A discipline of cybersecurity that spans the technical, administrative and physical measures in place in a given IT system, risk management attempts to identify potential spaces where vulnerabilities exist within a larger framework of acceptable risk.
In this discussion, risk can apply to several scenarios. Some of these scenarios are:
Breach Due to Security Vulnerabilities: When a given set of security measures aren't up to the task of defending against certain tasks, they present a significant risk of breach. Even controls that can handle more sophisticated attacks have some blind spots that can come up due to interoperability issues or configuration challenges.


Internal Threats and Social Engineering: Sometimes our weakest links are untrained employees targeted by clever hackers. One such example is authentication systems that don't leverage biometrics for identity verification, where simple hacks or phishing attacks can threaten access to an otherwise secure system.


Authorized Access Opens the Door for Hacks into Unauthorized Systems: Authorization is a required security control for most DoD compliance regulations for a reason: someone with access to one part of a system can, if they circumvent robust authorization systems, break their way into secured areas with protected or classified data.


The flat truth at the heart of risk management is that not everything in operation within a given organization can enjoy 100% protection while also maintaining the flexibility, accessibility and reliability necessary for government and enterprise applications.
To address this problem in the government service space, the National Institute of Standards and Technology (NIST) drafted NIST Special Publication 800-37, containing the outline for the technology-agnostic Risk Management Framework (RMF).
What Are the Seven Steps of RMF?
Compliance with RMF isn't just an added layer of work for your businesses. The stated goal of RMF is to encourage organizations like yours to approach security compliance through the lens of risk. That is to say, instead of implementing security checklists and hoping for the best, RMF provides the tools and processes to show you what it means to make risk-based decisions around cybersecurity and privacy control adoption.
What does that mean for you? Primarily, it means that you'll adopt the six-step RMF process that prioritizes risk-based security implementation.
The seven steps of the RMF process are:
Prepare: At this stage, you begin to catalog and identify key areas of risk and how they impact your organization's priorities (costs, operations, compliance). This step includes evaluations of employee and leadership roles, creating inventories of security controls, prioritizing critical systems and data and assessing the risk presented across these aspects.

Most importantly, you will create a risk management strategy that defines the acceptable risk profile your organization is willing to take on. This strategy will include considerations of compliance and industry standards as well as the overall business goals that you want to achieve.


Categorize: At this stage, you'll take your inventories, your strategy and your priorities and categorize the risk inherent in them. That is, you'll use the level of risk outlined in your strategy, including any metrics therein, and categorize risk related to information and how it is processed, stored and transmitted.


Select: At this stage, you will apply your categories and system information towards determining the necessary security and privacy controls to meet your defined risk profile. At this point, instead of simply picking controls as dictated, you instead select controls informed by a full risk assessment.


Implement: As the name states, here you implement selected controls with complete documentation and reporting on that implementation.


Assess: Once controls are implemented and operational, determine the efficiency, effectiveness and outcomes of those controls. This includes documenting how those controls work together as part of your overall infrastructure.


Authorize: With controls in place, documentation recorded and measurements underway, your business and technical leadership can now be authorized to make risk-based decisions on how that system operates, including authorizing upgrades, new technologies, new approaches to strategy and, if necessary, configuration adjustments.


Monitor: Your team will now monitor the system and adjust or optimize controls and configurations as necessary.
It's important to note that these steps aren't completely linear. You'll continuously work through them as a risk management lifecycle that can support regular and rapid upgrades, changes in controls or shifts in strategy.
Risk Management Framework Compliance and Maintenance with SecureStrux
Like other compliance and security frameworks, RMF has standards that expert firms can implement alongside business partners. That means that you don't have to field a security team with expertise in systems engineering, risk management and RMF consulting to work under a DoD agency. With a partner like SecureStrux, you can employ risk-focused and compliant IT systems, maintain regular reporting requirements through eMass and utilize managed continuous monitoring to stay ahead of the compliance and cybersecurity curve.
If you're interested in learning more about SecureStrux, contact our sales team through the form below.